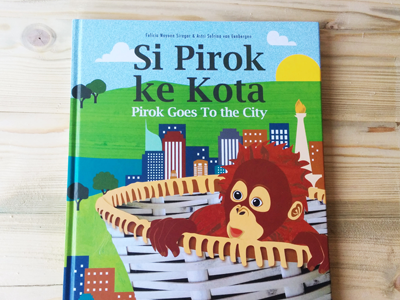 Pirok goes to the city
illustration
I am delighted to have the opportunity to do a collaboration with an Indonesian author to make illustrations for a children book project about Orangutan 'Si Pirok ke Kota' or 'Pirok Goes To the City' . It was launched in London, May 2014.
The book is a story of Pirok, a curious little Orangutan who lives in the rainforest of Indonesia. One day he ends up in a basket belonging to a boy who was picking fruit to bring back home in town. The book tells the story about what happened to him.
The purpose of this book is to introduce different types of Indonesian flora and fauna to children from young ages between 3 to 9 years old. The storybook was written in Bahasa Indonesia and English in order to reach not just Indonesian speaking children but also an English speaking audiance.For the design, I used a water marble technique incorporated with real pictures and computer graphic techniques to make this book attractive to read.
The Indonesian Education Attaché's Office in London has bought 500 copies of the 1st edition of 'Si Pirok ke Kota'/'Pirok Goes To the City', and is being distributed for free to primary schools in the UK.
I am currently working on illustrations for the second book in the Pirok series.